Institute of Science and Technology Austria (IST Austria)
Home ›
Austria ›
Institute of Science and Technology Austria (IST Austria)
Read more on the institution's website
The Institute of Science and Technology Austria (IST Austria) is a young international institute dedicated to basic research and graduate education in the natural and mathematical sciences, located in Klosterneuburg on the outskirts of Vienna.
IST Austria is committed to conducting world-class research. By 2026, up to 90 research groups will perform research in an international state-of-the-art environment.
One of the hallmarks of the IST Austria PhD program is the shared graduate school experience. An initial stage of exploration encourages broad exposure to important scientific approaches and problems. This allows students to lay a solid foundation for intensive research in the second phase of the PhD program.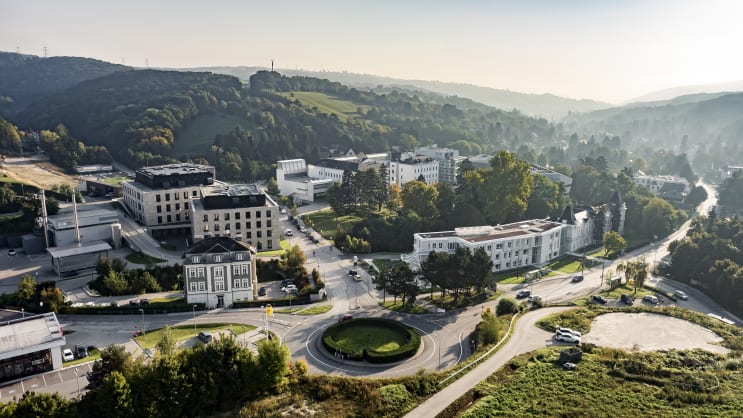 Dedication to Basic Science Research
IST Austria's faculty hiring strategy is encapsulated by the motto People before area; quality before speed. We are dedicated to bringing the best minds of the world to IST Austria to pursue cutting-edge basic science research. The Institute was inaugurated in 2009 and will grow to about 90 research groups by 2026. This exciting momentum is driven forward by every scientist added to our team, including every PhD student.
International and Diverse Scientific Community
Our scientists, from professors to postdocs to students, hail from all corners of the world, representing over 70 different nationalities, and building on research and degrees earned from the finest global scientific institutes and universities.
English-Speaking
We use English throughout the institute as the language of instruction and communication.
Interdisciplinary
Our U.S. Style Graduate Program is characterized by modern comprehensive training with a special focus on interdisciplinarity.
The following graph shows cross-group collaborations at IST Austria, based on co-authored publications from 2016 to June 2019. The PDF can be downloaded here.
Cutting-edge Research Training
Students work closely with outstanding faculty within small research groups and have access to first-rate facilities. Students spend the first year completing coursework and rotations before affiliating with a group.
This first phase of exploration allows students to be sure that the research topic, as well as the research group, are the best match for them before they embark on in-depth thesis research in the second phase.
Entry with a Bachelor's or Master's Degree
We welcome students with a bachelor's or a master's in science to apply to our PhD program.
6 Tracks of Study
There are six tracks of PhD study:
Biology
Computer Science
Data Science & Scientific Computing
Mathematics
Neuroscience
Physics
Research Groups
53 research groups in 2019
90 research groups by 2026
Scientific Service Units
Scientific Service Units (SSUs) provide support for scientists' research needs. The following SSUs are hosted by IST Austria:
Bioimaging Facility
Electron Microscopy Facility
Library
Life Sciences Facility
Miba Machine Shop
Nanofabrication Facility
Preclinical Facility
Scientific Computing
Funding
In all fields of research, funding is a very important topic. IST Austria relies on diverse funding sources to support all its researchers. The Grant Office is there to support IST scientists who would like to apply for external funding.
At the founding of IST Austria in 2006, 95 million Euro was put aside by the federal government as a conditional, performance-dependent budget that could only be secured if the Institute obtains the same amount in third-party funds by 2016. IST Austria has been exceptionally successful in raising third-party funds over the past years. Out of the 53 professors currently under contract, 34 professors—two thirds—have received a grant from the European Research Council. In the year 2016 alone, three advanced grants, two consolidator grants, and five starting grants were awarded to scientists at IST Austria. The graduate school is the beneficiary of one of the largest awards received at the Institute so far: 4.4 million Euro were awarded in 2015 to the interdisciplinary PhD program of IST Austria by a Marie Skłodowska-Curie grant from the European Union.
Altogether, the Institute has acquired more than 120 million Euro in third-party science funding. In addition, IST Austria has received donations from the private sector worth about 18.5 million euros. Together, this amounts to over 130 million Euro in third-party funding.
PhD students are employed by IST Austria and receive internationally competitive salaries and full social security coverage. Students also receive financial support to attend scientific conferences and workshops during their studies.
Institute Colloquia
The weekly Institute Colloquium is the principal research seminar at IST Austria. Scientists from around the world and from across all disciplines of the natural sciences are invited to present their latest findings.
Institute Evaluations
On a regular basis, the institute is visited by international review panels consisting of leading scientists from around the world (including Nobel prize laureates) to form an independent evaluation of the institute.
Careers
Our distinguished alumni have gone on to successful careers after their PhD studies at IST Austria.
PhD students receive support through our mentorship and career development programs which focus on training in transferable skills for academia and beyond. Throughout their studies, PhD students are supported by Career Services, which provides career development advice and training.
There are also regular TWIST talks organized by the Technology Transfer Office, which aim to support researchers in the commercial development and use of their research results.
Where do our alumni go?
This infographic shows where our alumni go after they graduate.
Where is IST Austria?
The Institute is only a 25-minute bus ride from Vienna, which is consistently voted one of the best cities in the world to live in. Our students have the choice of living in Klosterneuburg, a quiet area surrounded by beautiful woods, or right in the hustle and bustle of Vienna. We also have a number of housing options on campus.
Locations
Klosterneuburg
Address
Am Campus,1
3400
Klosterneuburg
,
Lower Austria
,
Austria