PhD in
PhD in Professional direction "Economics"
VUZF University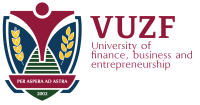 Scholarships
Explore scholarship opportunities to help fund your studies
Introduction
Important
Ph.D. programs are offered in individual, full-time, part-time, and distant learning forms. No age requirements.
Rolling admission all year round.
Accreditation
British and Bulgarian Accreditation
EU and Internationally recognized diploma
Every economic or managerial problem has financial and accounting aspects. Without knowledge on these fields, it would not be possible to find effective problem solutions.
VUZF offers the following Ph.D. programs:
"Finance and insurance"
"Accounting, control, and analysis"
The duration of study for a Ph.D. degree is up to 3 years (for full-time and individual plan form) and up to 4 years (for part-time form)
Directions
The doctoral programs comprise a large specter of the professional direction "Economics":
Business, Finance, Insurance, Social and Health Insurance, Banking, Marketing and Sales, AccountingandControl, Audit and risk Management, Innovation, Entrepreneurship, Business Psychology, Circular Economy and Sustainable Management, Capital markets and Investments, Real Estate Investment, Blockchain Innovation, Management in IT industry, Financial Mathematics and anything connected with Economics