Doctor of Education in
Doctor of Education in Educational Leadership
Tarleton State University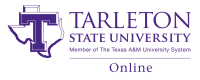 Career Opportunities
What Can You Do With Your Doctoral Degree in Educational Leadership?
The leadership and critical-thinking skills you'll gain through our Doctor of Education leadership degree program are relevant, applicable and necessary to improve educational organizations now and in the future. For many of our graduate students, this path is how to become a school district superintendent, higher education leader or administrator in education.
Working for schools, independent school districts, county colleges, public universities, regional or state organizations and more, our graduates take on a variety of educational leadership roles, from curriculum coordinator and executive director to superintendent and higher education administrator.
Curriculum
What Classes Will You Take as a Educational Leadership Graduate Student?
The doctoral dissertation in practice is embedded in the curriculum and involves an in-depth study that impacts a complex problem of practice. Other course topics include the scholar-practitioner leader, investigating problems of practice in educational leadership and educational equity and identity.