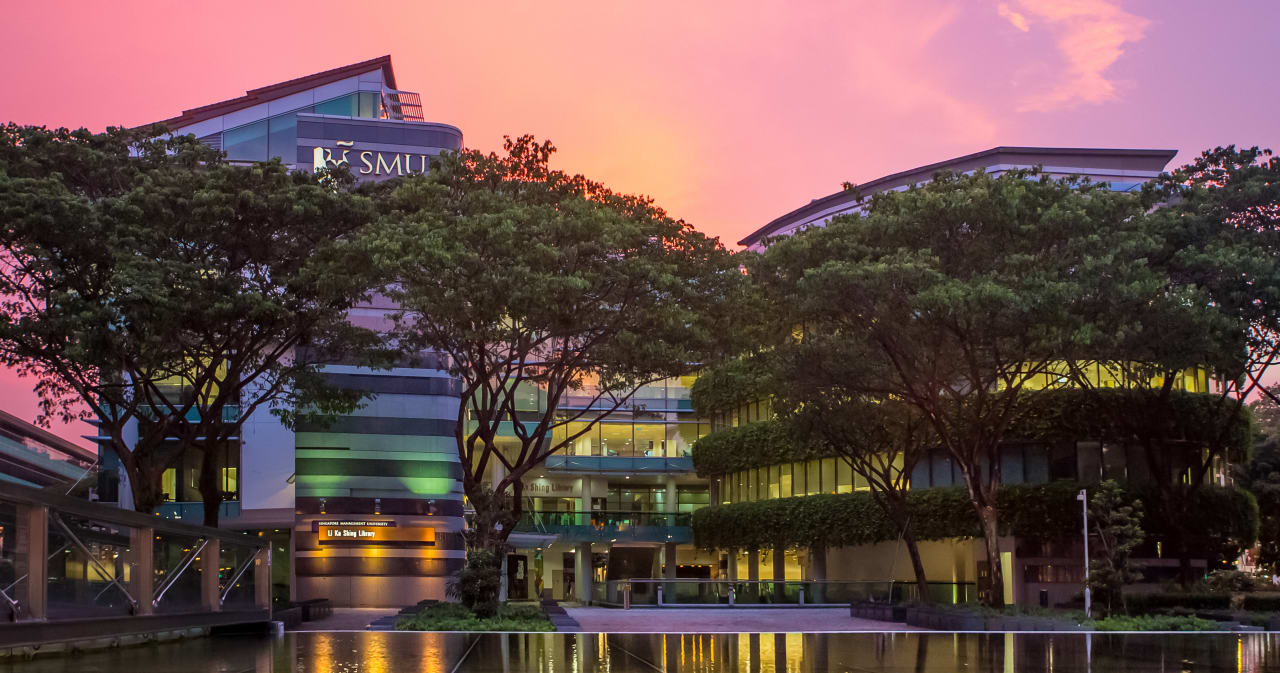 Doctor of Business Administration (DBA)
Singapore Management University

Key Information
---
Campus location
Singapore, Singapore
Tuition fees
SGD 130,344 *
Application deadline
Request info
Earliest start date
Aug 2023
* inclusive of GST
Introduction
Singapore Management University's Doctor of Business Administration (DBA) is a doctoral programme for scholars and senior management who aspire to pursue practice-driven research with the potential to create business impact. On top of research training, DBA candidates will examine the industrial applications of theory through coursework and develop pedagogical competencies through specialised workshops. The DBA programme will enable candidates to develop a portfolio of skills for influencing management practice, conducting applied and field research, and teaching competently.
Our DBA introduces two research foundation courses carefully designed for alignment to business practice while maintaining the rigour of a traditional PhD programme. Candidates will be trained in relevant forms of research design and methodologies that are needed to overcome complex business problems. A series of workshops is also built into the programme to impart skills for data analysis, academic writing, case writing and teaching.
Ideal Students
This programme seeks to admit business leaders, senior management and rising managers who are motivated to go through formal doctoral training to solve the business problems of their worlds. Experienced practitioners could also choose to make a switch to academia or take up affiliate faculty positions at academic institutions. Our DBA programme is also ideal for practice faculty who are just starting their academic careers as candidates will study SMU's innovative pedagogy and benefit from the University's centres of excellence for teaching and faculty development.
Curriculum
The Doctor of Business Administration curriculum consists of the following components:
Coursework (12 Credit Units)
Candidates will spend up to the first two years completing coursework requirements, which emphasise on requisite skills in research, teaching and presentation, as well as the ability to recognise, formulate and solve problems in practice. The two foundation courses help prepare candidates to review suitable research designs and methodologies for their dissertation project, while the core courses are structured to provide broad exposure across key business disciplines. After completing the common coursework, candidates can advance their understanding of a particular field by the choice of elective courses.
DBA (Innovation) candidates are required to complete all 4 electives from the Innovation track.
The on-campus coursework is designed to fit the busy schedules of working professionals. Courses will be offered in a modular format where candidates complete a 3-day residential segment on-campus per course, typically from Friday through Sunday. Courses will feature a combination of interactive seminars, assignments and project work.
Qualifying Examination
Upon completing the coursework, candidates will take the Qualifying Examination which assesses their ability to apply concepts learnt to practical scenarios.
Competency Workshops (1 Credit Unit)
Competency workshops are short courses that count for 0.25 credit units each. These are typically 1-day workshops targeted at imparting research, teaching, presentation and practice-oriented skills to participants. Workshop topics will include:
Data Analysis
Academic Writing
Teaching Forum
Case Writing and Teaching
Blended Learning
Introductory Research Project (1 Credit Unit)
In the second year, candidates will spend approximately 12 weeks on an introductory research project, which serves as a preparatory step towards their dissertation. This provides candidates with the opportunity to design a research study and write a short paper. Projects may vary from literature reviews on a chosen research area, to working on an empirical analysis of a topic of interest, or the application of a tool in a business discipline.
Dissertation (26 Credit Units)
Candidates are expected to form a Dissertation Committee and confirm a Dissertation Supervisor in their second year. Candidates will be working on their dissertations under the supervision of his/her Dissertation Committee. Regular consultations with the Dissertation Committee are expected until the successful completion of their dissertation (1 week, quarterly).
Dissertation Committee consists of one Dissertation Supervisor (Committee Chair), one SMU faculty member and one member outside of the discipline group who may or may not be an SMU faculty member. The members of the Dissertation Committee are appointed by the School in consultation with the dissertation supervisor and candidate.
In Term 2 of the second year, candidates are required to prepare a Dissertation Proposal. A written Dissertation Proposal and oral defence must be completed by the end of Term 3.
In the third year, candidates will commence work on their Doctoral Dissertation under the Dissertation Committee's supervision. Submission of a written report on the dissertation is due by the end of Term 2, Year 4.
After reviewing the written dissertation report, the Dissertation Committee will conduct a final examination in which the candidate will orally defend his/her dissertation. The Dissertation Committee may also require the dissertation to be revised and resubmitted. After examining the dissertation, the Dissertation Committee will make a recommendation to the SMU Office of Postgraduate Research Programmes regarding the fulfilment of the dissertation requirements for the degree.