PhD in
PhD in Intercultural Studies
Georgia Central University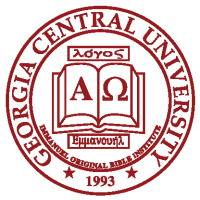 Introduction
Doctor of Ministry (DMin), and Ph.D. in Intercultural Studies (Ph.D. ICS). The MACE program is designed to equip and prepare students to become competent leaders in the educational ministries of churches. The purpose of the Ph.D. in Intercultural Studies program is to equip students for the vocations of teaching and research in theological schools, colleges, and universities or for the academic study of missional and ministerial practice. The Ph.D. program provides foundations in theory as the basis for original research and writing to advance missiological understanding and effective leadership, with a deep understanding of human diversity, contextual realities, and cultural change in ways that inform redemptive gospel-centered ministry in the contemporary world.
Program Outcome
Ph.D. in ICS students will be prepared to:
Explore and Clarify the biblical foundations of Christian mission based on the Bible in the context of Globalization.
Acquire advanced academic knowledge of the discipline, research methods, and theories in your field of study.
Explore mission theologies in both Western and non-Western mission fields.
Critically reflect on the learning, teaching, and researching dimensions of theological scholarship in the church and academic communities.
Integrate comprehensive interdisciplinary knowledge of appropriate scholarly literature into your area of study, including applicable skills.
Engage in scholarly research around an appropriate question, problem, or opportunity.
Establish strategic plans for ministerial success with a fresh perspective of postmodernism and globalization, along with analytical tools to excel in planning, forecasting, setting objectives, and determining courses of action that are compatible with cultural issues and dynamics.
Ph.D. in ICS graduates will be able to:
Demonstrate advanced knowledge of the discipline of intercultural studies and research methodologies appropriate to do advanced interdisciplinary research in its emphasis areas.
Demonstrate an ability to critically examine mission theologies and practices with both Western and non-Western Christian perspectives.
Demonstrate an ability to analyze contemporary challenges and needs in various intercultural contexts.
Demonstrate an advanced ability to engage in learning, research, and teaching in academic and professional settings.
Demonstrate an ability to integrate a comprehensive interdisciplinary knowledge of scholarly literature and effective intercultural practices.
Demonstrate an ability to write an interdisciplinary scholarly research work in the discipline of intercultural studies.