PhD in
PhD in Theory and Design of Machines
Faculty of Mechanical Engineering for University of West Bohemia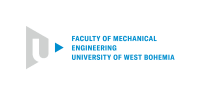 Introduction
Name of study program: Theory and design of machines P0715D270024
The standard length of study: 4 years
Guarantor of the study programme (SP): prof. Ing. Václava Lašová, Ph.D.
Deputy guarantor: prof. RNDr. Josef Voldrich, CSc.
Training departments: Department of Power Machines and Equipment (KKE), Department of Machine Design (KKS)
Form of study: full-time, combined
Language: Czech, English
Applicants for study in the doctoral study program apply for a specific topic of their thesis and to the supervisor of their choice.
About your studies
Graduates of the follow-up master's degree program may be admitted to study in the doctoral degree program in machine design. This study is the third, highest degree of university study, is full-time or combined and the standard study period is 4 years. Graduates from doctoral study programs are awarded the academic title of Doctor, abbreviated to Ph.D. after their name.
Curriculum
Timeline
During your studies, you take your state doctoral examination within two years from the start of the program, and it ends within four years with the defense of your thesis, which proves your ability and readiness for independent activity in your field of research or development. You choose the form of study and its schedule. We will create the conditions you need for your independent scientific, research, and creative activities.
Summary of doctoral thesis topics and supervisors for the academic year
Topic
Supervisor consultant - specialist
Application-oriented research and development of cooperative manufacturing and transport technology
Doc. Ing. Josef Formánek, Ph.D.
Application-oriented research and development of the modular hardware and software control system for manufacturing machines
Doc. Ing. Josef Formánek, Ph.D.
Application-oriented research and development of structural engineering design solutions of handling machines using "low-cost" control systems
Doc. Ing. Josef Formánek, Ph.D.
Industrial robotics in the context of Industry 4.0
Doc. Ing. Václav Vaněk, Ph.D.
Ing. Roman Čermák, Ph.D.
Research and innovations of properties of mechatronic and other heterogeneous technical products based on optimization of their constituents
Prof.Ing. Stanislav Hosnedl, CS
Doc. Ing. Josef Formánek, Ph.D.
Knowledge support of prediction, assessment, and risk reduction of technical products based on systematic predictive methods
Prof.Ing. Stanislav Hosnedl,CSc.
Ing. Josef Dvořák, Ph.D.
Knowledge support of tacit and recorded knowledge management of engineering design development of technical products based on systematic predictive methods
Prof.Ing. Stanislav Hosnedl,CSc
Road vehicle as a subsystem of the transport system in terms of increasing the transport effectivity
Doc.Ing. L. Němec, CSc.
Prof. Ing. S. Hosnedl, CSc.
Road vehicle as a subsystem of the transport system in terms of increasing the transport safety
Doc. Ing. L. Němec, CSc.
Prof. Ing. S. Hosnedl, CSc.
Waste Heat Recovery and Utilization from Heat Engines
Doc. Ing. Petr Eret, Ph.D.
Multidisciplinary Design Optimization of Heat Exchanger
Doc. Ing. Petr Eret, Ph.D.
Supervised machine learning in fluid mechanics simulations
Ing. Richard Matas, Ph.D.
Advanced simulations of processes in technical systems with fluid flow
Ing. Richard Matas, Ph.D.
Ing. Jindřich Kňourek, Ph.D.
Dynamics of wakes behind bluff-bodies
Prof. Ing. Václav Uruba, CSc.
V. Janovich