PhD in
On Campus Doctor of Engineering
Engineering Institute of Technology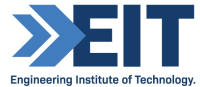 Introduction
Course at a Glance
Code: DENGOC
Course Length: 3 years full-time
Course taught in English
Programme Details
Successful completion of the course will equip the graduate to take a leading role in the development of research investigations into current and future problems of industrial and community concern within their area of expertise. The programme will give candidates the skills and experience to act as independent researchers or group leaders for investigations of practical importance in their professional area over their professional life.
The doctorate will run over three years (with 2 semesters per year). The first year consists of four academic coursework units and a research project proposal, which allows candidates to demonstrate their aptitude for research by undertaking a state-of-the-art literature review. This extends knowledge and skills attained in their undergraduate programme and the four foundation doctoral units.
The second year of the DEng will require the candidate to successfully complete a further four units (two course work and two research units) that will address deeper concepts in their discipline area. Each of these units will have a significant research component as required by AQF Level 9/10. The complex theory will be applied to current industry problems. The synergies and importance of theoretical constructs to professional practice will be explored in detail. The second year has the important objective of providing the candidate with appropriate skills and expert knowledge to undertake a doctoral-level dissertation in the final year with the requisite rigour. This includes identifying a suitable research problem and undertaking an introductory literature review relative to the chosen topic.
The third year of the Doctorate of Engineering is the dissertation year. Here the candidate will be expected to extend their work on the project that they have developed over the first and second year. The candidate will draw upon the research training, course learning, and research undertaken during the second year, to support this substantive body of work at AQF Level 10. This must make a significant and original contribution to knowledge in the context of professional practice. In other words, the doctoral candidate must create new knowledge that can be applied in an industrial context. Academic supervision, coupled with guidance from an industry advisor, will be an integral part of this programme.
DEng versus PhD
The EIT Doctor of Engineering (DEng) is a practically oriented professional doctor of engineering which is suited to the direct needs of solving industry problems. A PhD track focuses more on academic or scientific research.
There are a huge number of PhDs being offered around the world. If you want a really good outcome to your research and a credential of huge value, the simplest solution is to seriously consider MIT, Cambridge, Oxford, or equivalent. These will most assuredly help you in your academic or scientific research career if that is what you seek. But if you are an engineering working professional with a keen interest to solve problems that benefit industry and society at large, then the DEng is for you!
There are a few concerns when it comes to the standard research-based PhD for the following reasons:
The supervision and support are often very limited meaning that the doctoral candidate is on their own for most of the time – this is distressing and can contribute to an increased drop-out rate
The lack of tight supervision can mean a less than desirable quality in the research work and resultant PhD
The emphasis on pure research often results in a doctorate where there are no practical outcomes and thus no support for the graduate in getting a job/work outcome
The lack of any supporting course work in the degree means less rigour and understanding of the high standards required for a high-quality research-based approach
Can take a significantly long time to complete
We have thus crafted a professional doctorate that is aimed at applied research, focusing on developing specialized skills for practical application in the engineering workforce. The outcomes of the research and investigation have direct and immediate benefits to the industry. It prepares the individuals for professional engineering, with an emphasis on engineering practice, high technical competence, and innovation preparing graduates for technical leadership roles in the engineering industry.
The support systems come in the usual way of collegial support from the doctoral supervisors/lecturers/peers and comprehensive course work undertaken over at least two years ensuring the candidate has the tools and know-how to engage in high-quality applied research. We also have a dedicated learning support officer (LSO) who will be there with you every step of your journey.
We believe the EIT DEng programme will become a marker of someone who has worked on high quality applied research of use to industry and the graduate would be a chartered or professional engineer of note.
Accreditation
This Doctor of Engineering is an academically accredited programme by the Australian Government agency Tertiary Education Quality and Standards Agency (TEQSA).
Program Outcome
Graduates of the Doctor of Engineering (DEng) will be able to make original and significant contributions to the development, application, and evaluation of professional knowledge by engaging with practical problems of demonstrated importance to their employment context and the wider body of engineering and technical knowledge.
Curriculum
Programme Structure
The programme contains 120 credit points and has a duration of three years full-time. Students must complete 16 credit points (four units) and one Research Project Proposal in the first year. The Research Project Proposal is the equivalent of 12 credit points. The second year has a further four units totalling 44 credit points. Two of these units are research-based. The third year is fully occupied with the doctoral Dissertation, which is 48 credit points. At the successful conclusion of these three years, the doctorate is completed.
Note: The Programme Structure listed below is indicative of full-time enrolment. A part-time structure can be provided if required.
Year One
Semester
Unit Code
Subjects
Research or Coursework
Credit Points
Semester 1
Deng601
Engineering Practice and Key Research Methodology
Coursework
4
DEng602
Technology Evaluation and Intellectual Property
Coursework
4
DEng603
Applied Mathematical Modelling and Simulation
Coursework
4
DEng604*
Data Acquisition
Coursework
4
Semester 2
DEng700
Research Project Proposal
Research
12
Year Two
Semester
Unit Code
Unit Title
Research or Coursework
Credit Points
Semester 1
DEng801*
Advanced-Data Analysis
Coursework
8
DEng802
Doctoral Dissertation Research Paper 1
Research
14
Semester 2
DEng803*
Big Data Analysis and Pattern Recognition
Coursework
8
DEng 804
Doctoral Dissertation Research Paper 2
Research
14
Year Three
Semester
Code
Unit Title
Research or Coursework
Credit Points
Semester 1 & 2
DEng900
Doctoral Dissertation
Research
48
Total Coursework Units (equivalent to two semesters)
32
Total Research Units (equivalent to four semesters)
88
Total Credit Points (equivalent to six semesters or three years)
120
* Elective units – Other approved postgraduate unit/s as appropriate to the relevant field of study (Master- year 2 level unit) can be taken on by the student in consultation with their supervisor. These alternative units, endorsed by the supervisor, must be approved by the ACC/Deputy Dean. DEng801 & DEng803 units need to be substituted with 2 MEng elective units for credit equivalence."
Rules of Progression
The Doctoral Dissertation is the major component of the Doctor of Engineering programme. There are coursework components in the programme, which should serve as complementary knowledge for the Dissertation. The Dissertation unit appears in year three, but the research work for the Dissertation starts from year one. The key units that are associated with the Doctoral Dissertation are DEng700, DEng802, DEng804, and DEng900. The student needs to follow the steps below to produce a dissertation:
formulate a research idea in DEng700;
conduct research work throughout Year-2 and make publications in DEng802 and DEng804; and
continue to complete any unfinished research work and write up a dissertation.
The content of each unit is designed to provide a graduate increase in knowledge and skills throughout the course, culminating in the Doctoral Thesis in the third year.
Time Commitment & Duration
The Doctor of Engineering contains 120 credit points in total made up of four research-based units and six coursework units. The duration is three years full time or the part-time equivalent. Successful students will need to spend a minimum of 20 hours per fortnight for coursework units and a minimum of 60 hours per fortnight for research units.
Coursework units require on-campus attendance for live tutorials
Research units require attendance on-campus for 2 x 2 hours a week (2 separate days)